YCBK 86: When Should You Start the Admissions Process?
In this week's episode you will hear
In the News (04:16): an article from the University Gazette, "Study Finds that More AP Classes May Not Be Better".
University of NC Chapel Hill's undergraduate office found that taking more than 5 AP courses, probably doesn't prepare students any better for college. Taking AP courses up to that certain amount does help students in college. The article cites the original purpose of AP was to prepare students for college level work but that has now evolved into a mindset that the more AP's the better. Many kids have been responding by taking on as many as 12-15 AP courses over their high school career. The research done at UNC Chapel Hill will now lead them to not give students more credit for taking an excessive amount of AP's. We acknowledge that other colleges may think differently. https://gazette.unc.edu/2013/01/08/study-finds-that-more-ap-classes-may-not-be-better/ (Length 11:46)
Chapter 86 of 171 Answers (16:02) : We are in Chapter 86 of 171 Answers and we're talking about when to start the college admissions process with your kids. We discuss a wide range of different starting points. We talk about the balance between reaping the value of starting early but the downside of being college obsessed.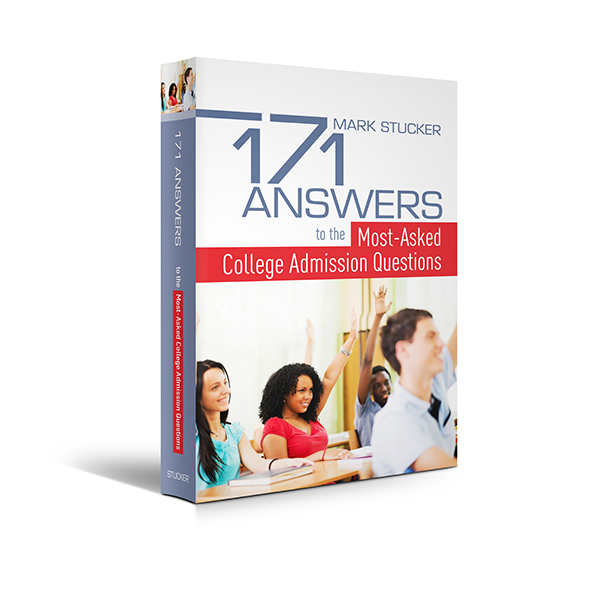 We talk about the difference between formally starting the process and informally starting the process. Mark shares his bottom line question that determines when someone should start the college process.Mark helps us determine how our kids should go about understanding the academic requirements and steps that it takes to achieve the careers that they are considering, and decide whether or not they would want to stick with that relevant major in college (Length 15:42).
This week's question (31:44) is from Meredith in Phoenix and she asks if an AP score of 3 in biology, a subject her daughter wants to major in while in college should be submitted to a highly selective school. Meredith and her daughter have been having a debate about this. The concern about not submitting the 3 on the AP Bio test is that colleges will assume you took the test and that you probably got a 1 or a 2.
Mark does something different for this question, he actually asks a highly selective school how they would answer this question. Next he shares their answer in this segment. Mark shares the perspective that most admissions officers have about students who don't submit scores. This is a perspective that he thinks will surprise a lot of people. (Length 19:26)
This week's interview (51:10) Mark kicks off his interview with one of his former students, Tara Kalinisan, the Assistant Director of Admissions at Smith College.
They are talking through the do's and don'ts of what students and parents should do while attending a college information session.
Mark's recommended resource of the week (59:27) Mark's recommended resource of the week is a lecture by Paul Tough on his book, "How Children Success-Grit, Curiosity and the Hidden Power of Character". The lecture as well as the book are based on the latest neurological and psychological research that challenges the notion that IQ and high standardized tests are the key to career success: https://www.youtube.com/watch?v=Qx7EGal0qmg&t=532s for the lecture.
The college spotlight for the week is Case Western Reserve in Cleveland, Ohio.
Don't forget to send your questions related to any and every facet of the college process to: questions@yourcollegeboundkid.com
If you enjoy our podcast, would you please do us a favor and share our podcast both verbally and on social media? We would be most grateful!
Anika and I are excited to give our listeners a chance to play a role in shaping what topics we discuss, and what guests we have on our podcast. You can let your voice be heard by completing this survey. Just put the following link in your browser and give us your honest feedback. Anika and I would like to thank you in advance.
https://tinyurl.com/YourCollegeBoundKid
Every episode of Your College-Bound Kid will align with a chapter from the book 171 Answers to the Most-Asked College Admission Questions. To get a copy visit 171answers.com and if you want to see what future episodes will cover just click the red button "See exactly what 171 Answers covers".
Share This, Choose Your Platform!
Comments