In this week's episode you will hear
In the News (6:02) : In this week's "In the news segment", a January 19th, 2021 article from Jon Marcus of the Hechinger Report entitled, "The pandemic is speeding up the mass disappearance of men from college". The article includes statistics that show the huge gender disparity between the number of men and the number of women who are going to college. The article examines the reason for this gender gap. Mark and Dave discuss the reasons listed in the article. Mark and Dave say this discussion is so important that they promise to return to this topic again for a Part 2 within the next 10 weeks. Mark would like to thank Khristie, a College and Career counselor in Virginia who is so concerned that we are losing our young men. Khristie asked us to please discuss this on our podcast. (Length 17 minutes)
The pandemic is speeding up the mass disappearance of men from college
This week's question (23:58) Question from the listener and College Spotlight. Rob from Texas wrote in and asked us whether there are other programs out there like the dual degree program between Trinity College in Dublin and Columbia university. Lisa and I decided to take this episode to do a deep diver into this unique program.
This will also serve as our College Spotlight for the week. Next week we will talk about what other programs out there are similar to this. This program is one every college counselor should be familiar with. It is a program that could be an excellent option for someone who wants an International experience that goes beyond Study Abroad. (Length 45 minutes)
This week's interview (1:08:57) This week's interview is with Christina Lopez, the Dean of Admission at Barnard college, the highly selective women's college that is one of the undergraduate colleges of Columbia University. Christina's topic is, should a student discuss their mental health challenges in their admission application. In Part 2 of 2, we discuss the following: (1) Christina answers the question, how is a student to know whether they should share a mental health struggle or whether it will sabotage their admission chances, (2) Christina talks about how the essay differs from what a student would say with the therapist, (3) Christina talks about how the resources to support mental health vary drastically from one school to another,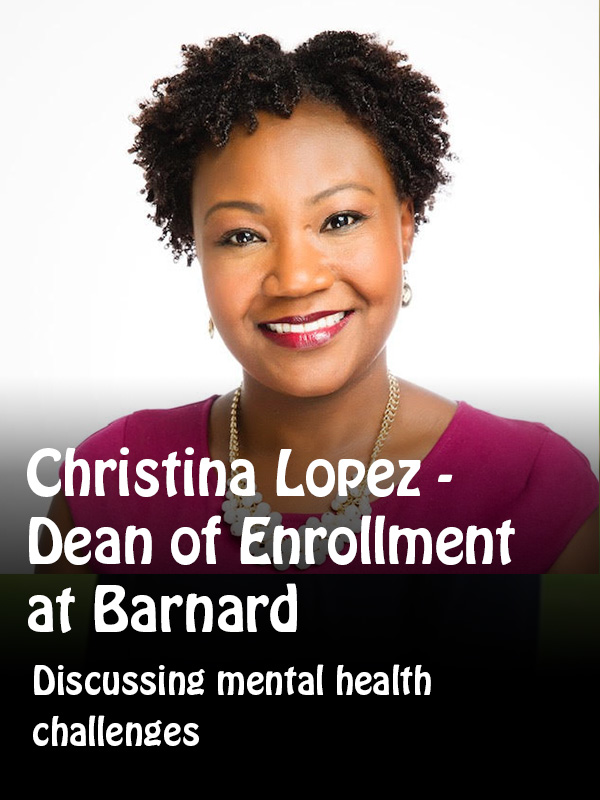 (4) Christina reflects on the admission profession and she gives an honest assessment on where things are when it comes to understanding and accepting student's mental health, (5) Christina talks about ones of the tests they use to discern if a student is admissible when they have had mental health challenges, (6) Christina talks about some of the missteps that students make in their essays, (7) Christina closes with a profound statement about what she looks for and likes to see in an essay. I thought it was so profound that I ask her Christina to repeat it (Length 10 minutes)
Mark's recommended resource of the week (1:18:00) Recommended resource: Loren Pope's classic book, "Colleges that Change Lives" looks at several dozen small transformational colleges that welcome many B students.
College Spotlight: Trinity College and Columbia dual degree program. https://tcd.gs.columbia.edu/
Don't forget to send your questions related to any and every facet of the college process to: questions@yourcollegeboundkid.com
If you enjoy our podcast, would you please do us a favor and share our podcast both verbally and on social media? We would be most grateful!
Anika and I are excited to give our listeners a chance to play a role in shaping what topics we discuss, and what guests we have on our podcast. You can let your voice be heard by completing this survey. Just put the following link in your browser and give us your honest feedback. Anika and I would like to thank you in advance.
https://tinyurl.com/YourCollegeBoundKid
Every episode of Your College-Bound Kid will align with a chapter from the book 171 Answers to the Most-Asked College Admission Questions. To get a copy visit 171answers.com and if you want to see what future episodes will cover just click the red button "See exactly what 171 Answers covers".