In this week's episode you will hear
In the News (13:45) : In this week's "In the news segment, a September 6th, 2021 Wall Street Journal article by Douglas Belkin looks at the data indisputably proving that colleges are increasingly becoming more female and less male. The article also explores some of the reasons why this is happening. Mark and Dave began this conversation about six weeks ago and they promised a part 2 within eight weeks. Mark and Dave discuss nine reasons why colleges are not appealing to men these days. Mark and Dave had planned on discussing an article by Phillip Cook and Glenn Sacks, entitled, "Mysterious Decline-Where are the Men on Campus" before the WSJ article broke, so Dave and Mark also discuss this article. In fact, they pushed back their college spotlight so they could do a 45 minute deep dive into this topic. For this article, Mark and Dave focus on what happens in the elementary school years. (Length 36 minutes)
https://www.wsj.com/articles/college-university-fall-higher-education-men-women-enrollment-admissions-back-to-school-11630948233
This week's bonus content (49:15) Every fifth week YCBK has bonus content; this is a passion that Mark and/or Lisa just feel they need to share. In this edition, Mark and Lisa are discussing what students should do now if they are in the 12th grade. This is the fourth part of a sequel that began on #175 when they looked at what to do in the elementary and middle school years, #180, what to do in the 9th and 10th grade, 185, what to do in the 11th grade. Mark and Lisa will return to the final episode of this sequel in May of 2022 to look at what to do in the summer between graduating from high school and starting in college. (Length 35 minutes)
This week's interview (1:24:04) Mark interviews Eric Furda, who spent over 25 years in high level leadership at both Columbia and Penn. This is the final segment of a three-part interview.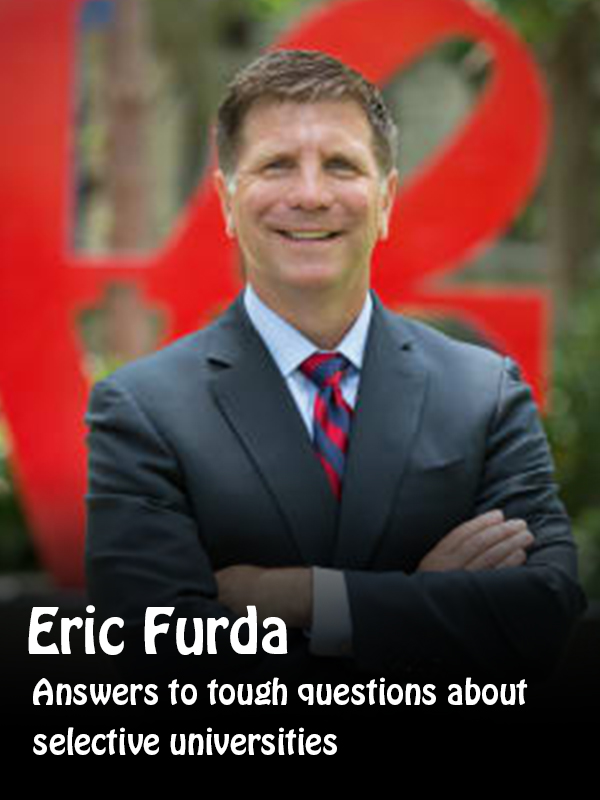 In Part 3 of 3, Mark asks Eric the following questions: Preview for Part 3: (1) Eric talks about how colleges use college-specific questions to learn important things about the applicants, (2) Eric answers Mark's question, what are the things that are misunderstood about selective institutions?, (3) Eric pulls no punches when Mark asks him, how is U Penn different from Columbia and he is answering so I ask him several more follow up questions on the comparison of the two schools. (4) I close by putting Eric on the hot seat and we get to learn a lot about the lighter side of Eric (Length 7 minutes)
Mark's recommended resource of the week (1:31:38) Recommended resource: A sensational resource for anyone who wants to know which colleges serve Jewish students well: https://hillel.org/college-guide (Length 14 minutes)
College Spotlight: N/A
Don't forget to send your questions related to any and every facet of the college process to: questions@yourcollegeboundkid.com
If you enjoy our podcast, would you please do us a favor and share our podcast both verbally and on social media? We would be most grateful!
Anika and I are excited to give our listeners a chance to play a role in shaping what topics we discuss, and what guests we have on our podcast. You can let your voice be heard by completing this survey. Just put the following link in your browser and give us your honest feedback. Anika and I would like to thank you in advance.
https://tinyurl.com/YourCollegeBoundKid
Every episode of Your College-Bound Kid will align with a chapter from the book 171 Answers to the Most-Asked College Admission Questions. To get a copy visit 171answers.com and if you want to see what future episodes will cover just click the red button "See exactly what 171 Answers covers".