In this week's episode you will hear
In the News (13:18) : In this week's "In the news segment, an October 3rd, 2021 article by Ron Daniels of "The Atlantic", "Universities are Shunning Their Responsibility to Democracy" This scholarly article is written by the current president of Johns Hopkins university. Mark and Dave discuss the salient points from this article in what will be part 1 of 2 (Length 16 minutes)
https://www.theatlantic.com/ideas/archive/2021/10/universities-cant-dodge-civics/620261/
This week's question (29:26) Mark was asked in our questionnaire what trends he is observing for the future concerning college admissions, Mark and Lisa discuss 14 different observations Mark has made in Part 1 of 4.
They discuss the first three trends in Part 1 (Length 32 minutes)
This week's interview (1:01:10) Mark interviews two financial aid experts: Michael Ireland, Associate Director of Financial Aid and Courtney Hatch Blauvett, the Director of College Counseling at Miss Hall's school and the former financial aid officer at four different colleges. Michael and Courtney answer 13 questions that listeners to YCBK sent in over the last three months on all topics related to paying for college, financial aid, scholarships, etc. This is part 1 of 5.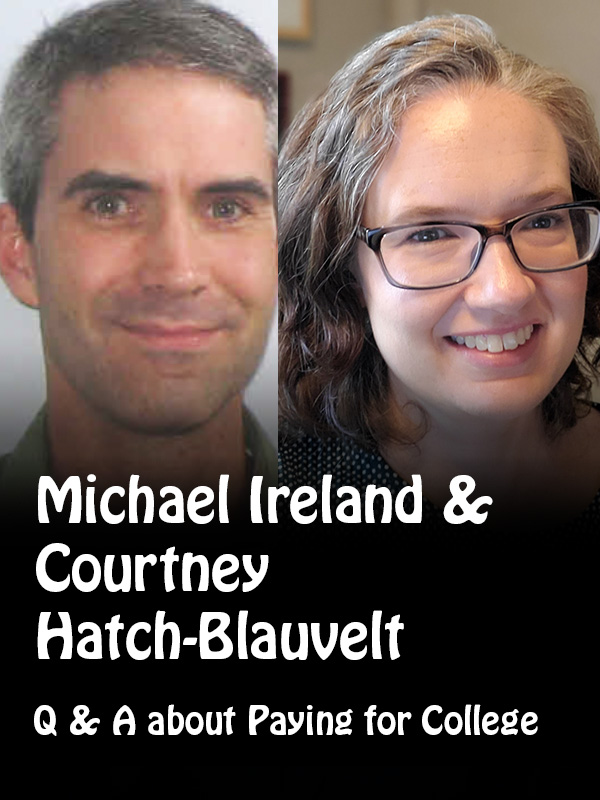 Preview Part 1 – (1) Courtney Hatch and Michael Ireland both give us their backstory and they share what they enjoy about financial aid and counseling, (2) Question 1-My son is interested in out of state public schools but it is going to be expensive for us to pay for out of state tuition for all four years, how can I find out exactly what we have to do to pay "in-state" tuition at his "out of state" school? I have heard it varies from one school to another, (3) Question 2-How can we tell if a private college has decent financial health? Where do we do our digging to get info on this? (Length 25 minutes)
Mark's recommended resource of the week (1:14:00) Our recommended resource for episode 202 is "The Freshman Survival Guide: Soulful Advice for Studying, Socializing, and Everything In Between" by Nora Bradbury-Haehl and Bill McGarvey. This book provides sage advice about how to successfully transfer from high school to college. It covers topics like: academics, roommates, mental health, money, social life, etc.
College Spotlight (1:26:32) : Our College Spotlight is Appalachian State in Boone, NC. Lisa just spend three days in Boone and she gives us a breakdown on App State. Part 1 of 2 (Length 14 minutes)
Don't forget to send your questions related to any and every facet of the college process to: questions@yourcollegeboundkid.com
If you enjoy our podcast, would you please do us a favor and share our podcast both verbally and on social media? We would be most grateful!
Anika and I are excited to give our listeners a chance to play a role in shaping what topics we discuss, and what guests we have on our podcast. You can let your voice be heard by completing this survey. Just put the following link in your browser and give us your honest feedback. Anika and I would like to thank you in advance.
https://tinyurl.com/YourCollegeBoundKid
Every episode of Your College-Bound Kid will align with a chapter from the book 171 Answers to the Most-Asked College Admission Questions. To get a copy visit 171answers.com and if you want to see what future episodes will cover just click the red button "See exactly what 171 Answers covers".