In this week's episode you will hear
In the News (5:30) : Julia Esquivel makes her debut as one of our co-hosts in our monthly rotation for our "In the News" segment. Mark and Julia discuss a Washington Post article by Valerie Strauss entitled, "Advice from College Admissions Deans". We discussed this article on #194 but we said we would return to it. Julia picked out three quotes from the article from admissions deans that resonated with her and Mark and Julia discuss them.
https://www.washingtonpost.com/education/2019/09/26/truth-about-college-admissions-college-admissions-deans/ (Length 32 minutes)
This week's question (37:56) Diana from Wisconsin sent us an outstanding list of questions that are all designed to get some guidance about the transition to college. Mark and Lisa acknowledge that the transition to college is an area that we haven't adequately covered. Mark and Lisa answered half of Diana's questions in episode and they answer the other half here in episode 231.
1) Thanksgiving break- we found that plane tickets for Thanksgiving break were sky-high in price and the remaining school year after break was so short, it was almost not worth it to have her come home for break. In retrospect, we kind of wish we had not set the expectation to have her come home for Thanksgiving, as it was short and stressful.
2) Safety and crime on campus – does the campus have an emergency alert system that students can sign up for text alerts for? Can parents sign up also?
3) how often should we talk on the phone together? Should we have a weekly call? How often will we be in touch with each other? (Length 24 minutes)
This week's interview (1:01:10) Our interview is with Karen Kristof, a 30+ year admission veteran who has worked at five colleges. Karen is the Dean of admissions at Colorado College. Karen addresses three different topics over for three consecutive Thursdays. In last week's episode Karen answered the question, how do colleges evaluate a transcript. This week she answers the question: Preview-How admissions officers evaluate a high school. (1) Karen shares how a college uses the School Profile to understand each high school, (2) Karen talks about how they evaluate a student who is at a poor high school,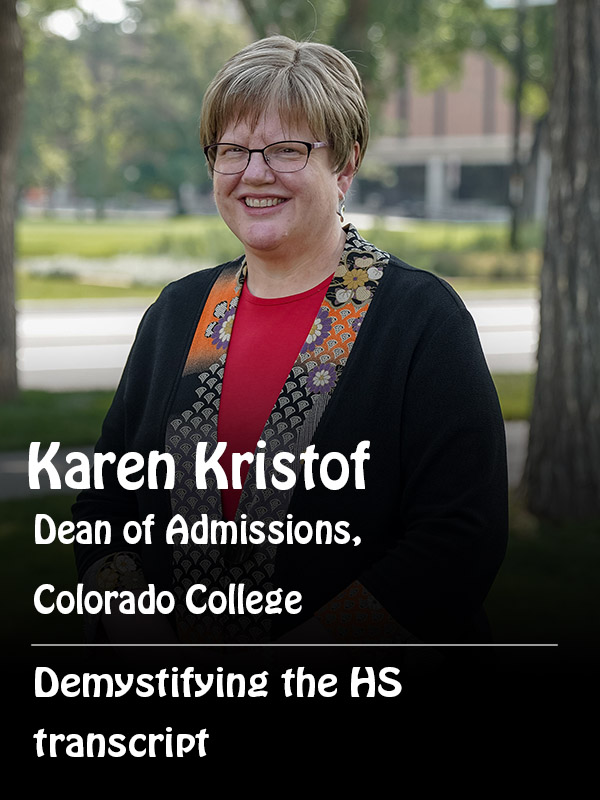 (3) How do you evaluate a student who is at a school with a lot of really high achievers, (4) Can they tell if a school has grade inflation or grade deflation, (5) We discuss reading by school group (Length 29 minutes)
Mark's recommended resource of the week (1:13:42) The recommended resource is the website: https://www.universitystudy.ca/. Explore Canadian universities and programs of study. Recommended first place to start for researching Canadian universities.
College Spotlight (1:30:30): Our College Spotlight is The University of Michigan, Part 2 of 2 with Lisa (Length 22 minutes)
Don't forget to send your questions related to any and every facet of the college process to: questions@yourcollegeboundkid.com
If you enjoy our podcast, would you please do us a favor and share our podcast both verbally and on social media? We would be most grateful!
Anika and I are excited to give our listeners a chance to play a role in shaping what topics we discuss, and what guests we have on our podcast. You can let your voice be heard by completing this survey. Just put the following link in your browser and give us your honest feedback. Anika and I would like to thank you in advance.
https://tinyurl.com/YourCollegeBoundKid
Every episode of Your College-Bound Kid will align with a chapter from the book 171 Answers to the Most-Asked College Admission Questions. To get a copy visit 171answers.com and if you want to see what future episodes will cover just click the red button "See exactly what 171 Answers covers".