YCBK 268: Dr. Martha Saunders, President of UWF, Miscellaneous Topics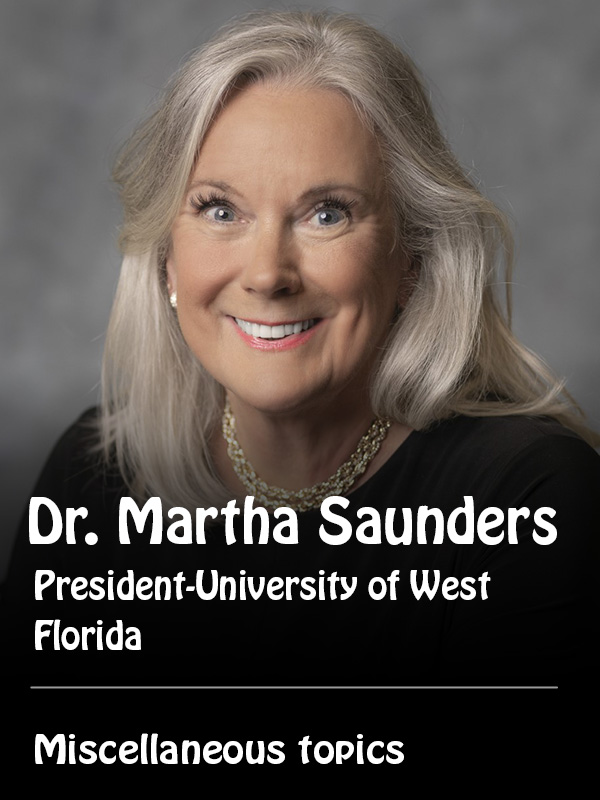 In this week's episode you will hear
Introduction :
Mark goes into more depth about the four recommended resources that he touched on in Episode 267 last Thursday (see below). Mark shares a second thing that is grinding his gears. Mark does a Preview of the content of his interview with Dr. Martha Saunders.
Preview Pt. 1
Saunders tells us her progression from adjunct professor to college president and she shares several other unique aspects of her background
Saunders answers the question, what can colleges and universities do to increase their perception of their value with an every increasingly cynical public.
Saunders tells us what she means when she uses the term, "high impact practices" and she talks about the value of "high impact practices"
Saunders talks about how they adjust their curriculum to the needs of the student body
Saunders talks about how they use interdisciplinary programs to provide exposure to the humanities without having to cancel some important programs that are not in strong demand
Saunders tells us what she means by commodity programs.
FAFSA It is time to complete the FAFSA: Here is a step by step walkthrough for the FAFSA
How to fill out the 2023-24 FAFSA – YouTube : In this tutorial walk-through, Kierstan Dufour, Assistant Director and Project Manager at Get2College, guides students and parents on how to fill out the 2023-24 FAFSA for dependent students from start to finish.
It is also time to complete the CSS PROFILE if any of your students colleges require the PROFILE. Here is the Walkthrough for the CSS PROFILE : https://www.mefa.org/videos/family-webinar-series-the-cssfinancial-aid-profile.. What to Know About the CSS Profile TM – MEFA : This webinar introduces the nuts and bolts of the CSS Profile TM, a financial aid application required by roughly 300 colleges, universities, and scholarship agencies across the country. Topics include tips on completing the Profile, specific financial and household data collected, and how colleges and universities use the application information. (https://www.mefa.org)
Recommended Resource (1) Studentaid.gov for loan forgiveness. (2) (https://www.youtube.com/watch?v=AsenQYidG5Q A great FAQ on the CSS PROFILE with four financial aid officers from selective colleges. (3) Creating a Class: College Admissions and the Education of Elites by Mitchell Stevens: One of the best books you could ever read to understand how selective Liberal Arts colleges make decisions. (4) The Gatekeepers: Inside the Admissions Process of a Premier College by Jacques Steinberg, another classic that helps readers understand how decisions are made at a selective Liberal Arts college.
Don't forget to send your questions related to any and every facet of the college process to: questions@yourcollegeboundkid.com
If you enjoy our podcast, would you please do us a favor and share our podcast both verbally and on social media? We would be most grateful!
Anika and I are excited to give our listeners a chance to play a role in shaping what topics we discuss, and what guests we have on our podcast. You can let your voice be heard by completing this survey. Just put the following link in your browser and give us your honest feedback. Anika and I would like to thank you in advance.
https://tinyurl.com/YourCollegeBoundKid
Every episode of Your College-Bound Kid will align with a chapter from the book 171 Answers to the Most-Asked College Admission Questions. To get a copy visit 171answers.com and if you want to see what future episodes will cover just click the red button "See exactly what 171 Answers covers".
Share This, Choose Your Platform!
Comments