YCBK 243: Elite colleges quiet fight to favor alumni kids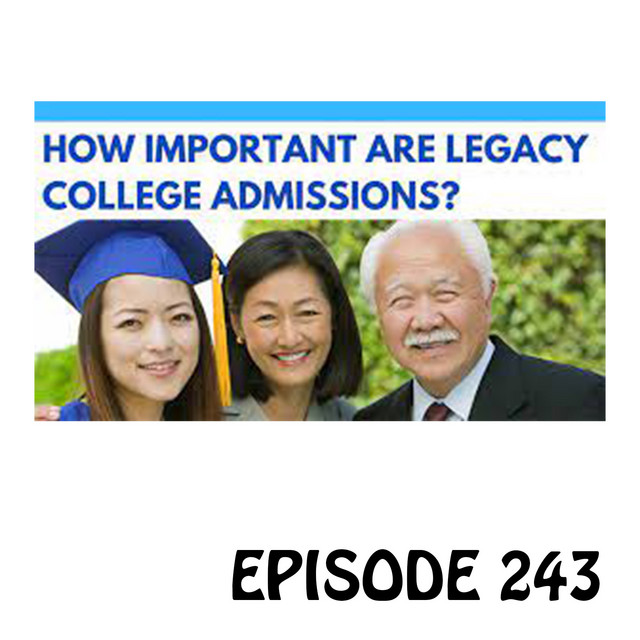 In this week's episode you will hear
In the News (10:20) : Mark and Dave discuss an article by Stephanie Saul, written on July 13th, 2022 that appeared in the New York Times entitled, "Elite Colleges Quiet fight to favor legacy admissions". The article looks at why legacy admissions is defended so fervently by so many colleges.
https://www.nytimes.com/2022/07/13/us/legacy-admissions-colleges-universities.html (Length 24 minutes)
This week's question (34:12) For our question from a listener, it is bonus content time and Mark recaps a presentation he recently attended entitled, "What is it that is keeping senior admissions people up at night".
As families come to understand the pressure admissions officers are under, it will help explain why so many colleges are so creative and so aggressive in how they recruit students. Part 2/2 (Length 20 minutes)
This week's interview (54:22) Our interview is with John Ambrose, the Director of Undergraduate Admissions at Michigan State University. Our topic is Understanding Michigan State University. Part 1 of 3. This interview will also serve as our college spotlight. Preview of Part 1: (1) John gives his backstory, (2) John gives an overview of Michigan State, (3) John talks about the different colleges that comprise MSU, (4) John takes about MSU's role in spearheading the land grant universities, (5) John describes the MSU campus,
(6) John talks about what Lansing and East Lansing are like, (7) John shares how MSU is different from other Big 10 schools, (8) John shares how MSU has changed in the last few decades, (9) John shares how MSU's admissions process works (Length 14 minutes)
Mark's recommended resource of the week (1:08:13) The recommended resource is College Vine's, Guide to the Education section of the Common App. This resource will assuredly help anyone who is completing this section of the Common App that often befuddles students: https://blog.collegevine.com/a-guide-to-the-education-section-of-the-common-app/
College Spotlight: see interview above
Don't forget to send your questions related to any and every facet of the college process to: questions@yourcollegeboundkid.com
If you enjoy our podcast, would you please do us a favor and share our podcast both verbally and on social media? We would be most grateful!
Anika and I are excited to give our listeners a chance to play a role in shaping what topics we discuss, and what guests we have on our podcast. You can let your voice be heard by completing this survey. Just put the following link in your browser and give us your honest feedback. Anika and I would like to thank you in advance.
https://tinyurl.com/YourCollegeBoundKid
Every episode of Your College-Bound Kid will align with a chapter from the book 171 Answers to the Most-Asked College Admission Questions. To get a copy visit 171answers.com and if you want to see what future episodes will cover just click the red button "See exactly what 171 Answers covers".
Share This, Choose Your Platform!
Comments