In this week's episode you will hear
In the News (9:15) : Mark and Susan discuss a July 10th article by Adam Platt that appeared in the Twin Cities Business Magazine, entitled, "Why Campus Tours Keep Presidents up at Night". The article looks at how the college tour is such a high stake game that it is a source of concern for Presidents.
https://tcbmag.com/why-campus-tours-keep-college-presidents-up-at-night/> (Length 50 minutes)
This week's question (59:00) Our question from a listener, comes from Cadence, a student a Stuyvesant HS in NYC.
Cadence sent in two questions about interviews that we will answer over the next two weeks: If I am asked, what other schools are you applying to, how am I supposed to answer that question. (Length 37 minutes)
This week's interview (1:26:21) Our interview is with Heath Einstein, the Dean of Admissions. In Part 1 of 3, Mark and Julia discuss the following: Part 1 : (1) Welcome and Greetings, (2) Julia shares how she met Heath, (3) Heath gives his backstory, (4) Heath answers the question, "Who is TCU", (5) How does the mission at TCU impact the educational experience, (6)
I find that both TCU and SMU are at times challenging for students to consider as a goof fit for their college list if they don't identify as Methodist or Christian, how would you answer the question, why should I consider TCU if I don't identify as a Christian?, (7) The mascot at TCU is a "horn Frog"; what is a Horn Frog?,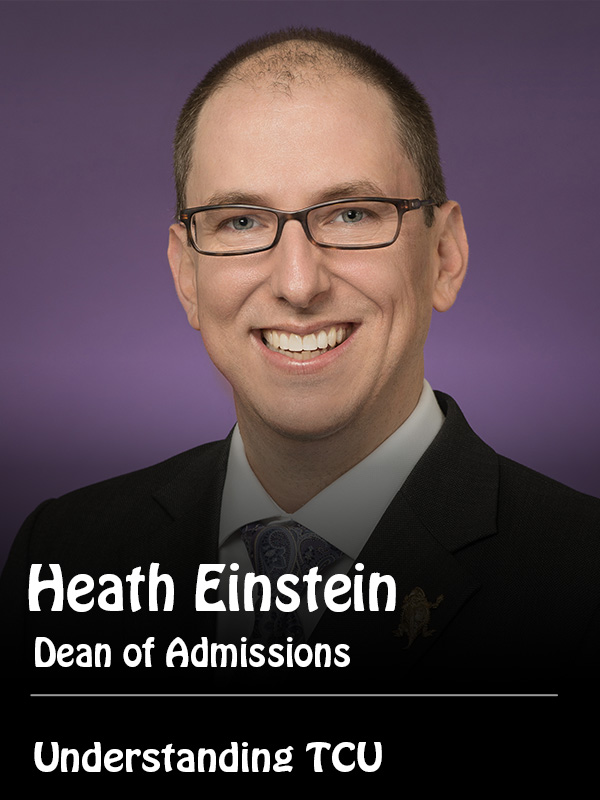 (8) TCU is known for its School spirit, the Horned Frogs, where does this come from and how does it impact the student experience?, (9)
TCU is also known for friendly people and a strong sense of community, same question, where does this come from and what does this look like?, (10) Describe the TCU campus? The TCU interview with Dean of Admissions, Heath Einstein will also serve as our college spotlight. (Length 12 minutes)
Mark's recommended resource of the week (1:38:56) The recommended resource is https://www.studentloanplanner.com/blog/. This is the work of Tyler Hornsby, who we have interviewed on our podcast. This is the best source Mark knows of to follow the student loan forgiveness and all other student loan options.
College Spotlight: See the interview above
Don't forget to send your questions related to any and every facet of the college process to: questions@yourcollegeboundkid.com
If you enjoy our podcast, would you please do us a favor and share our podcast both verbally and on social media? We would be most grateful!
Anika and I are excited to give our listeners a chance to play a role in shaping what topics we discuss, and what guests we have on our podcast. You can let your voice be heard by completing this survey. Just put the following link in your browser and give us your honest feedback. Anika and I would like to thank you in advance.
https://tinyurl.com/YourCollegeBoundKid
Every episode of Your College-Bound Kid will align with a chapter from the book 171 Answers to the Most-Asked College Admission Questions. To get a copy visit 171answers.com and if you want to see what future episodes will cover just click the red button "See exactly what 171 Answers covers".
"See exactly what 171 Answers covers".