YCBK 264: Dr. Nick Gozik: What you need to know about Study Abroad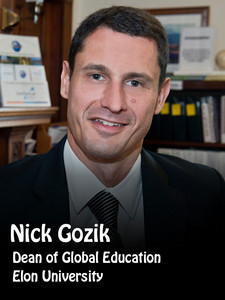 In this week's episode you will hear
Introduction: Mark shares a few announcements and then Lisa interviews the Dean of Global Education at Elon University: Dr. Nick Gozik. The topic is, What you need to know about Study Abroad, Part 1 of 2
Preview of part 1
Nick expands on Lisa's introduction of his background
Nick gives us all advice on how to make decisions at each stage of your career
Nick talks about the value of going abroad
Nick shares why he believes students should live abroad
Nick shares what to do if you are unable to go abroad to still get some of the benefits of going abroad
Lisa shares an experience when she stepped out of her comfort zone and went abroad for four months
Nick shares what he means by "high impact practices"
Nick shares the history of US students going abroad
Nick talks about some of the challenges that can go wrong when you go abroad.
Nick talks about his new book that he has coming out called, "A House where we all Belong: Redesigning Education Abroad for Inclusive Excellence" edited by: Nick J. Gozik & Heather Barclay Hamir. His second book
Mark's recommended resource of the week Here is a step by step walkthrough for the FAFSA
How to fill out the 2023-24 FAFSA – YouTube : In this tutorial walk-through, Kierstan Dufour, Assistant Director and Project Manager at Get2College, guides students and parents on how to fill out the 2023-24 FAFSA for dependent students from start to finish.
Walkthrough for the CSS profile : https://www.mefa.org/videos/family-webinar-series-the-cssfinancial-aid-profile. What to Know About the CSS Profile TM – MEFA : This webinar introduces the nuts and bolts of the CSS Profile TM, a financial aid application required by roughly 300 colleges, universities, and scholarship agencies across the country. Topics include tips on completing the Profile, specific financial and household data collected, and how colleges and universities use the application information. (https://www.mefa.org)
Don't forget to send your questions related to any and every facet of the college process to: questions@yourcollegeboundkid.com
If you enjoy our podcast, would you please do us a favor and share our podcast both verbally and on social media? We would be most grateful!
Anika and I are excited to give our listeners a chance to play a role in shaping what topics we discuss, and what guests we have on our podcast. You can let your voice be heard by completing this survey. Just put the following link in your browser and give us your honest feedback. Anika and I would like to thank you in advance.
https://tinyurl.com/YourCollegeBoundKid
Every episode of Your College-Bound Kid will align with a chapter from the book 171 Answers to the Most-Asked College Admission Questions. To get a copy visit 171answers.com and if you want to see what future episodes will cover just click the red button "See exactly what 171 Answers covers".
Share This, Choose Your Platform!
Comments